Why choose a collaborative approach?
Does the way we procure playgrounds create the finest design solutions that offer the best value to communities? As a playground design consultancy and supplier, we have delivered play in every guise of procurement possible. What we know is each Local Authority is unique and each local authority is guided by a number of variants that balance design, play value, maintenance, budget and capacity. But what we also can observe is that sometimes the weighting of a playground design may lean too heavily one way over another and doesn't ultimately bring the best value to the community it serves.So what would we propose?The best results are ALWAYS achieved when working in a collaborative way, which is a challenge when there is a large portfolio to manage, but imagine if you could run a playground project where your community was completely invested in the design? Or your working knowledge of the site, landscape and the history behind it was accurately represented?Play Space designers, regardless of how experienced and creative they are will never be the people closest to the project and those inner workings should never be underestimated in the value it brings to the project design. Is that delivering the best value when heading to the pretty picture process?Below is an amazing example of how this collaborative approach has proven hugely successful for our clients at Bournemouth, Christchurch and Poole (BCP) Council. Click here to read a RIBA step by step process of this project. 
Our favourite aspect really has to be the vibrancy and quality of the colours that the Robinia has been painted. It has really brightened up the space and made it a really appealing place to play. In this picture, you can see the carvings of the Koi Carp and if you look closely the bouncing discs have been manufactured to look like Lily pads and this is the client's favourite part of the space, the small pond area.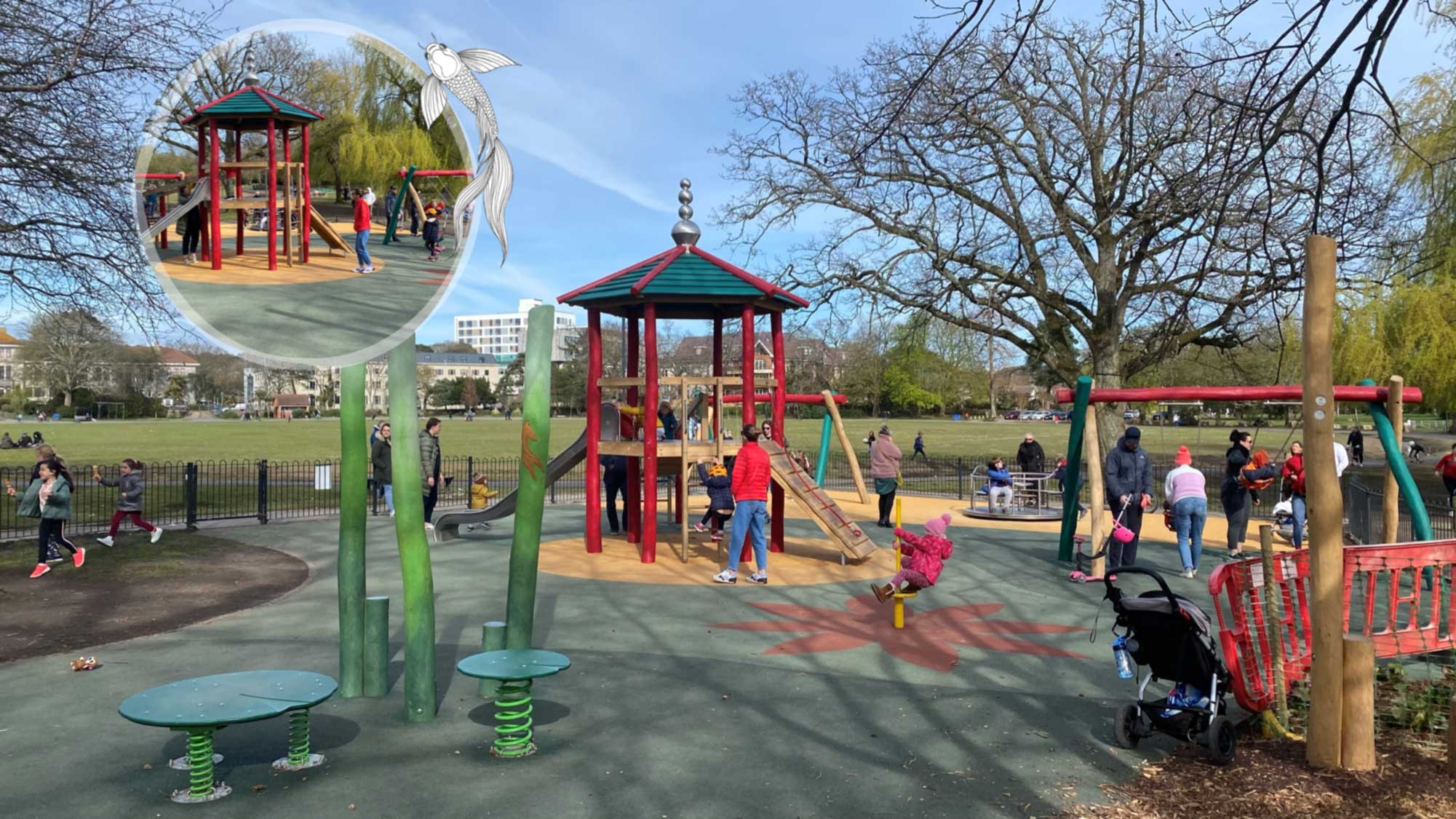 We really enjoyed the whole process for Poole Park because we think the best playgrounds and therefore play experiences are when projects are delivered when working in a collaborative way, mostly with Landscape Architects to deliver this type of experience. So many tender processes miss the mark in creating a sense of place or even some play value for the children, it becomes a tick box exercise, and we are not advocates of that.